Carol Head: Leader for a New Era (Part Two)
Hillary Johnson
A Revival of Patient Advocacy on Heels of IOM Report
‍
Carol Head, who became Solve ME/CFS Initiative president three years ago, knew that as long ago as 2008 the leadership of the former CFIDS Association of America had decided to drop patient advocacy altogether in order to focus its money and energy on scientific research.
"It was a pretty stark line in the sand," Head says today. "The idea was that if you really want to serve patients, the best way to do that is to do research—to fund research and solve the disease."
‍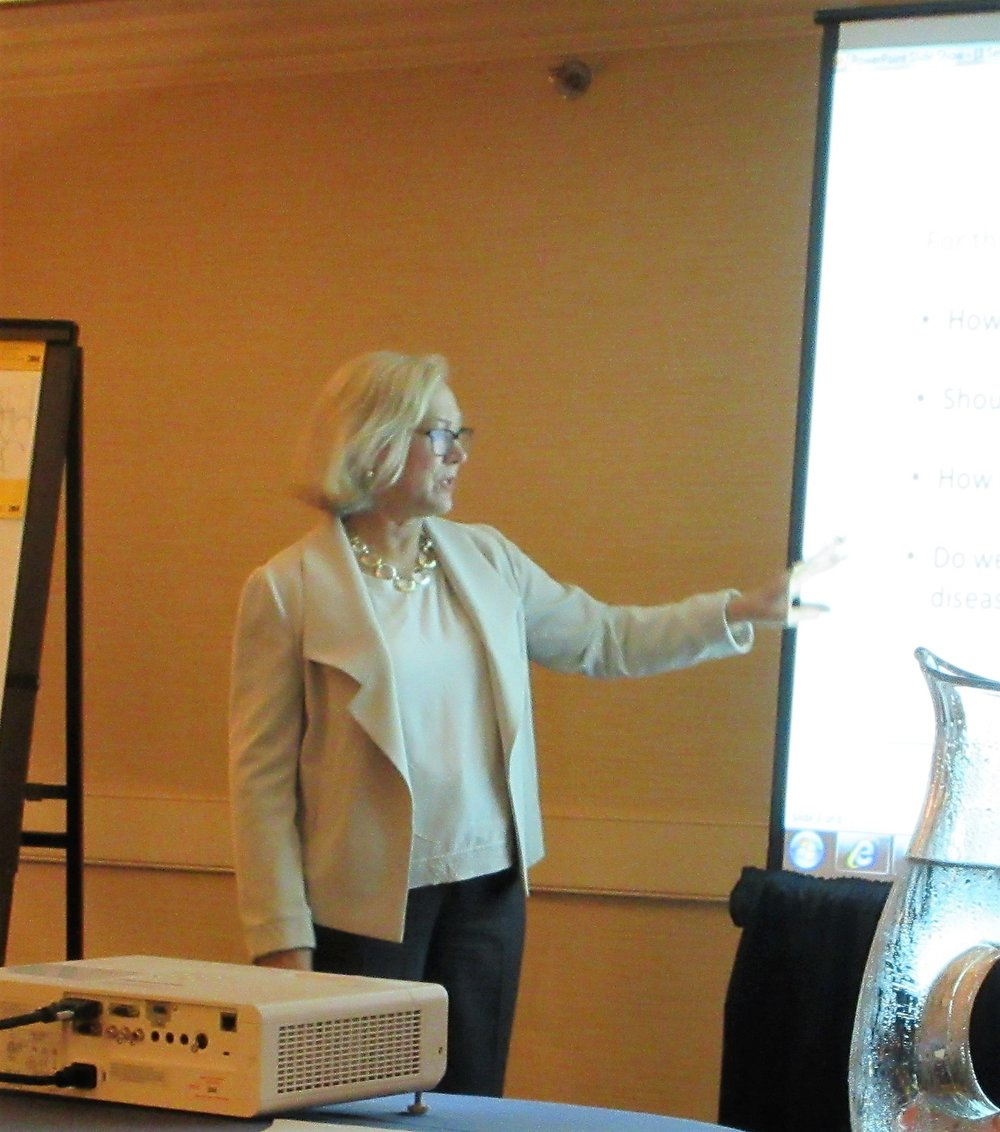 ‍
After all, as was apparent to most by then, the government was not doing its own research and over time had virtually halted its meager funding of extramural grants for M.E. In the 1980s, Stephen Straus was the only scientist at the NIH with any demonstrated interest in the disease. By 1998, Straus dropped M.E. to launch what would become the National Center for Complementary and Integrative Health. (Straus died in 2007 but the Center for Complementary Medicine has prospered; in 2015, its annual budget was $124.1 million and it had a commitment of staff hours equal to 74-full-time employees.) Given a lack of interest evinced by Straus' boss Tony Fauci, the Director of the National Institute of Allergy and Infectious Diseases (NIAID), M.E.'s continued bad luck ultimately was to be orphaned in the tiny Office of Research on Women's Health. The latter was created in 1990 primarily to insure women were included in clinical trials at NIH. It's an anomalous entity at NIH with no research funds to support extramural investigators, no labs and no working scientists. It has been, for an epidemic disease afflicting millions and long in need of a massive and urgent research effort, a dead zone.
Despite assurances in 2016 by then-NIH director Francis Collins (now acting director) that M.E. was being taken seriously within his agency, the disease continues in 2017 to have no "home" within a scientific institute such as NIAID or the National Institute of Neurologic Disorders and Stroke at the NIH, and remains in the Office of Research on Women's Health.
Head says, "From 2009 until 2015, for a period of seven years, (Solve ME/CFS)completely focused on research, funding pilot projects and building up a biobank."
Head was comfortable with the research-only mandate of the organization, but when she assumed the presidency, she nevertheless decided to change its name and sent out a press release on the topic in October 2014.
"The old name was just flat out wrong," she says today. "First, it wasn't an association anymore. 'CFIDS' was no longer an appropriate acronym for the disease anymore, and 'of America' limits it to a geography. On those three measures alone, all were wrong. Also, we wanted a more modern, contemporary name."
She also moved the headquarters of the organization from Charlotte, NC to its current address on Wilshire Boulevard in Los Angeles, resulting in a 100 percent turnover of its staff.
Noting that, "Los Angeles offers a wider pool (of bio-medical experts) from which to recruit," Head adds, "When we moved from Charlotte to Los Angeles, no one came with me. We have a new staff and a new research director, Zaher Nahle."
Some of the current staff have a personal connection to the disease, either in the form of a family member who suffers from it or direct experience with the disease itself. Scientist Nahle, who was new to the topic just a few years ago, kept photos on his desk of three M.E. patients to remind himself of the urgency of his work. The portraits remain on his desk, but he long ago stopped needing reminders.
‍
‍
‍The ebullient Nahle, who was hired by Head to be vice president for research in June 2015, has expertise in cancer biology, diabetes and now M.E. Head selected him from a surprising sixty candidates who applied for the job, nearly all of whom had impressive credentials. His scientific training was at Cold Spring Harbor and Stony Brook; he has a degree in policy and management from the Harvard Kennedy School of Government.
The Solve ME/CFS biobank as constituted today consists of "roughly 500 individuals" who have provided approximately 9,600 specimens combined with statistical and demographic data about the donor, Head says. Samples are welcome from anyone aged ten and older; the samples will be used in research in the years ahead. Healthy family members and friends are encouraged to submit samples, as well. Instructions for doing so are on the organization's website.
In December 2016, Nahle presented a webinar describing in some detail Solve ME/CFS's research endeavors and their sources of funding. During the course of the webinar, Nahle's comments reflected a studied understanding of the misfortunes faced by the disease and its sufferers in the medical cosmos. As Carol Head would say, he "gets it." Like Head, however, Nahle can't hide his enthusiasm about opportunities going forward. In his summation, he concluded, "Despite the history of struggle there is a changing landscape across the world due to patients being vocal and scientists becoming more excited about the disease." (A link to Nahle's December 2016 webinar can be found at the bottom of this page.)
‍
------------
‍
Perhaps ironically, it wasn't long after Head hired Nahle that unfolding political events at the federal level caused Head to rethink the research-only philosophy of her organization. Early in 2015, she found herself making a sudden foray into advocacy.
"I would really like to claim that there was a great strategic plan," Head says, "but there wasn't." She continues: "There were two publications, the P2P (Pathway to Preventions) report and the IOM (Institute of Medicine) report. For the first time there were documents that stated unequivocally that this was a physical disease and not psychological. There are aspects of each (report) that certainly are imperfect," she continues, "and aspects of each that I think served us all well. But if you only take away the first message from these two documents—and they were right in synch, coming from two different sets of smart people who were trying very hard to do the right thing scientifically—it was, to me, a critically important step for the disease."
In other words, the science may not have been perfect but the rhetoric was.
"So, when that happened in the very early spring of 2015, you know I'm thinking, 'Okay! Here we go now! I thought, 'Woo hoo!'"
The Pathways to Prevention workshop summary was released in December of 2014. It was followed in February 2015 by the Institute of Medicine's report on the disease. Both reports were written by people who had been empaneled by agencies within the Department of Health and Human Services and asked to deliver objective analyses of the existing literature and offer recommendations. In addition, both panels were notable for their inclusion of individuals with limited or no familiarity with the disease. As a result, these entities faced resistance among patients who worried the government-financed panels might simply rubber stamp the worst of decades-long federal propaganda about the disease; patients considered the enterprises a grave misuse of money and even a potential source of additional abuse. In spite of instances of patient testimony requesting that the panels be disbanded as well as a great deal of online turmoil, both efforts went forward as planned. To the surprise of nearly everyone, those fears mostly were not realized.
"I was very pleased to see both of these reports," Head says, "and I was kind of looking around, like—okay, when are we going to start seeing the NIH and the rest of the institutions change?
"There was a lovely surge of interest from the media for about a month. There were stories in the New York Times and the Washington Post. I was interviewed for NBC Nightly News. So—this was nice. Then—as if nothing! So I was both surprised—naively surprised—and pissed off."
As the attention began to fade and there were no real indications that any positive developments were underway on the NIH campus in Bethesda, Head decided to capitalize on these government-generated documents in the most impactful way she could.
"We decided to have a briefing on Capitol Hill. You know—you just get a room," Head says. "We said, 'Nobody's doing anything, so we will convene this group on Capitol Hill and invite everybody under the sun. I'm very glad we did it. It moved the needle just that much—just tiny!"
‍
‍
The room Head selected for the March 25, 2015 briefing was the ninth floor rotunda at 101 Constitution Avenue, a building known for spectacular views of the Capitol rotunda from its roof terrace. Head asked Ellen Wright Clayton of Vanderbilt University to address the gathering of lawmakers, scientists and press. Clayton both chaired the Institute of Medicine committee and was listed as author of the resulting 200-plus page report, "Beyond ME/CFS: Redefining an Illness." Clayton spoke for about eighteen minutes, providing a summary of the report itself but, in addition, digressing on occasion to voice her personal thoughts on the disease and the plight of its victims.
"She was terrific!" Head remembers. "Here was this preeminent scientist who had come to chair that committee with no knowledge of the disease and by the end of her fourteen months of study, she was, like, 'A travesty has occurred here.' She was great—you don't often get scientists who are willing to speak in such emotional language."
"A Devastating Tragedy Not Worthy of the American People"
Indeed, Clayton's chairmanship was an uncommon stroke of luck for people suffering from M.E. Clayton holds dual positions at Vanderbilt in the law school and medical school. At the medical school, she co-founded the Center for Biomedical Ethics and Society. Her courses were "Bioethics and the Law" and "Genetics, Medicine and the Law." In other words, Clayton had an unusual combination of medical expertise buttressed by an intellectual overlay of law and ethics. Judging by her words, whether in speech or print, Clayton seemed to have viewed the disease through a wide angle lens, grasping not merely the science but the degree of negligence that had occurred and the human suffering that had resulted.
"Reading this literature, it is really clear what this disorder is," Clayton told the assembled. "Listening to patients, it is really clear what this disorder is. It jumps off the page. It was not hard (for the IOM panel) to come to a conclusion about core symptoms because—you can't miss it!...We hope to never again hear the question, "Is this a serious disorder? It is."
Clayton summarized her remarks with the words, "We opened a door—there is a light at the end of the tunnel. The challenge now is to go through that door…"
Clayton may have mixed her metaphors, but her meaning was clear.
Head spoke as well at the meeting, describing in brief some historical highlights of the disease's fate over the decades and quoting one of the most powerful summary sentences from the report itself: "I believe this is the beginning of the end of this American tragedy that is not worthy of the American people." She reminded her listeners of the widely held belief, more than thirty years ago, that autism and M.S. were psychiatric maladies. "Now that we're better informed, we feel remorse for that unimaginable insensitivity to the suffering of those with autism and MS. Such has been the inhumane dismissal of those who suffer now with ME/CFS. One day the skepticism about ME/CFS and the poor treatment of those who suffer will be equally unimaginable to everyone.
"With this highly credible, scholarly IOM report, now is the time to commit to solving M.E./CFS," she said.
‍
‍
A third woman spoke at the briefing, this one a celebrity, the actor Morgan Fairchild. The latter said she had held a long-standing interest in emerging viruses and epidemiology that went as far back as the emergence of 13 cases of pneumocystis carinii pneumonia in New York City in the early 1980s; the odd pneumonia cases turned out to be AIDS. Fairchild's interest in M.E. predated her own onset in 1989, though she said hers had been a "mild case" and like Head, she had mostly recovered. "Suddenly, I couldn't think of words, I couldn't get sentences to come together. Suddenly I had to write everything down" she said of her experience. "I could not remember my mother's phone number." Nevertheless, she added, "I was able to muddle through and keep making a living.
"I was very lucky. Carol was very lucky. But this disease devastates lives. I know so many people who are famous, who are major players in my industry, who have had this disease," Fairchild said. "No one talks about it publicly, no one wants to be identified with it…All this has slid under the radar for far too long." She added that "the powers that be" needed to step up with funding and research. "Progress ain't free."
Unfortunately, Fairchild's best connection with the "powers that be" at the NIH was Tony Fauci, unofficial AIDS czar and head of NIAID since 1984. Fauci has been, over the decades, something of an anti-hero in the M.E. field. Capitalizing on her long-time friendship with Fauci, launched by her early interest in AIDS, Fairchild was able to arrange 45 minutes of facetime with Fauci, to which she invited Head and Ellen Clayton. The meeting occurred during the afternoon of the day of the Solve ME/CFS briefing. Fauci invited Joe Breen, a NIAID immunology section chief and one of 33 members of the NIH trans-ME/CFS working group, to the meeting.
"The 'ask' was, 'This is a disease that needs to have a home at one of the institutes at NIH. Why not NIAID?" Head says. "We had a reasonable conversation. Dr. Clayton did most of the talking. And at the end of the day, 'Well, no, that was not going to happen.' So—we were not pleased. We were not pleased at all."
Did Fauci provide a rationale?
"Gosh, I don't think there was anything specific," Head says.
(A brief discussion of Fauci's history in the M.E. epidemic can be found at the end of this article.)
As an editorial aside, the notion that securing private meetings with high-level DHHS staff can advance the M.E. cause has held firm for at least three decades. In defense of such tactics, Head, who says she has "buttonholed Francis Collins at conferences" and who has met twice with Karen De Salvo, the former Assistant Secretary of Health, explains, "I do know this—there are times when I can sit alone with Walter Koroshetz (director of the National Institute of Neurological Disorders and Stroke) or Vicky Whittemore (a program officer at NINDS who has demonstrated support for M.E. research), when you can learn things that are reasonable for them to be careful about saying (in public)."
History offers few if any examples of tete-a-tetes with specific government officials on the part of one or even a handful of individuals seeking to represent M.E. sufferers that have resulted in helpful developments for the vast majority—or any—patients. Continuing the practice of meeting privately with a few sympathetic-seeming people in government in the hopes they will be able to change the course of history may be a dubious path forward given its poor success record. After more than three decades of the dismissal of M.E. by the government, a more confrontational, transparent style of interaction might be warranted. Implicit in the effort to "buttonhole" or commit individual bureaucrats to private meetings is a belief that progress can be supercharged by changing one mind, when the problem is more than three decades old, has involved at least two generations, and is deeply institutionalized. In addition, the fact that even sympathetic figures in the federal bureaucracy must exert caution in their public statements for fear of reprisal from superiors speaks volumes about the existence of a continuing low regard, low-status view of M.E. inside government.
One potentially more effective alternative might be an effort by advocates to force Senate hearings in which health agency bureaucrats are forced to respond to questions from members of Congress about their agencies' M.E. activities or lack thereof in public. Civil rights attorneys could, in addition, be helpful in bringing lawsuits against heads of divisions within DHHS whose actions have been negligently against the best interests of public health, now or in the past. Finally the Freedom of Information Act could be employed more creatively to provide clarity about what is actually going on inside the agencies aside from their public funding activities.
One prominent M.E researcher commented privately at the Florida IACFS conference that in truth only a handful of people at CDC and NIH have actually changed their opinions about the disease, an assessment that suggests patients may be operating under a series of false assumptions about how aggressively the disease is being pursued at this juncture.
‍
‍
When presented with the first comment, Head replies, "I think that's absolutely right. The only quibble I would have---I do believe that Francis Collins actually cares and is trying to move the needle. The three people I know best—Vicky Whittemore, Walter Koroshetz and Francis Collins—they get it and they want to make change. The Trans NIH Working Group—most if not all have an understanding of this disease and care.
"So, that's still just a very few people and even for them, it's like turning the Titanic. But," Head says, revealing an inherent optimism that is likely a mandatory qualification for her post, "the question is, how many people does it take to make a change? It's a start and I'll take a start. It's better than nothing. It is still so utterly inadequate. So, when we talk to these people, it's always, 'Okay, glad there's a start but you know it's utterly inadequate and here's what's going to happen."
Head shows no signs of dialing back her advocacy any time soon. Indeed, she recently hired an "advocacy manager," Emily Taylor, and says Solve ME/CFS is in the process of formalizing its advocacy plan. Taylor's mother suffers from M.E. Taylor previously worked on behalf of autism.
"(Taylor) knows how to work through Congress, she knows the agencies, she knows the process and so we are in a more formal way adding advocacy to our primary goal, which is still research," Head says.
"And though our primary focus is research," Head continues, "advocacy is always more visible. You get some new activity every month or so. With research, you're lucky if you get a new result every quarter. It's much less visible, but it remains our core."
Head strives for inclusivity in the advocacy realm, though has not found it in every instance.
"We welcome all comers (but) some don't want to be part of us—there are areas of difference. I've had conversations with some advocates who were less than friendly to our organization. They still believe that our funding comes from the federal government and that we are just puppets of the government. But we've not had a penny from the government in the last eight years."
As for Solve ME/CFS's funding today, Head says that until September of 2016, "One-hundred percent came from patients and their families. We did recently get a foundation grant of $20,000 from the California Wellness Foundation. But, putting that aside, I think we're like most health-related non-profits—we have probably ten significant donors who provide more than half of our donations."
Nevertheless, Head adds, in 2015 her organization received donations large and small from 1,800 people.
"Our average donation size is well below $100," Head says, once the very largest gifts are taken out of the mix. "So we get lots of gifts for $2, accompanied by letters saying, 'This is all I can do.' It's very touching. And yes, it makes me very frugal because much of this money came from people who could not afford to give it."
According to Solve ME/CFS's IRS filing for 2015, contributions and grants to the organization totaled $1,377,000. Salaries and employee benefits for its staff staff of nine totaled $576,800.
Head's personal commitment to the cause of M.E. was on display in November 2015 when she appealed directly to her Stanford Business School classmates at their 30th anniversary in a touching 20-minute presentation.
"I'm used to speaking to people who 'get' this disease," she says, "but in this case, it was the first fundraising effort I've made with people who have no familiarity with M.E."
Her appeal wasn't easy to write. Ultimately, Head talked about her own experience, but devoted more time to telling her classmates about another classmate, someone well-known and remembered, a former marathon runner who had fallen ill in the 1980s like Head but failed to recover and "who's had no life for thirty years."
Her effort with her Stanford class proved successful enough that Head says she wants to fine tune the speech and, in effect, "can" it so that anyone can present the same appeal at their church, their rotary, or their own graduate (or undergraduate) schools to similar success.
Would Head ever choose to participate in an act of civil disobedience on behalf of M.E.?
"That's not something I've not talked to my board about, so I don't think I can tell you how Solve ME/CFS feels about civil disobedience…But, I feel it is a powerful tool and could be an important tool. Personally, I would do it. I'm 62—I've never been arrested before. It's on my bucket list."
‍
SOLVE ME/CFS RESEARCH PROGRAMS
ZAHER NAHLE'S DECEMBER 2016 RESEARCH OVERVIEW WEBINAR
ELLEN CLAYTON'S PRESENTATION AT THE SOLVE ME/CFS BRIEFING
MORGAN FAIRCHILD'S PRESENTATION AT THE SOLVE ME/CFS BRIEFING
CAROL HEAD'S PRESENTATION AT THE SOLVE ME/CFS BRIEFING
CAROL HEAD'S FUNDRAISING APPEAL TO HER STANFORD CLASS
‍
---------
‍
‍Fauci Failures: Those who have followed the twists and turns of the M.E. story know that one of the constants inside a recalcitrant federal health establishment has been NIAID director Anthony Fauci's historical distaste for M.E., manifested in part by his repeated--whether sincere or not--bewilderment at patients' discomfort with being labeled mentally ill.
Fauci's disregard for the disease was first evidenced publicly in the early 1990s by his avid support of his NIH colleague Stephen Straus, architect of the modern-day psychoneurotic theory of M.E. who died in 2007. In the early 1990s, when members of the House and Senate were receiving "cascades of letters," according to Fauci's deputy, from constituents pleading for Straus' firing or reassignment, Fauci took the unusual (for him) move of accompanying the thin-skinned Straus to the Hill to visit Rep. John Porter of Illinois, a well-known M.E. advocate in the House, to demand that Porter tell his constituents to stop writing letters to NIH demanding Straus' firing. Fauci told Porter that Congress had no business telling NIH scientists how to perform their jobs and that the letters would have zero effect (other than, presumably, hurting Straus' feelings).
Porter was "in awe" of Fauci, according to his legislative aid, but his less-awed aid, who knew people with the disease, interjected, "But what if (M.E.) is a real disease that you are falsely portraying as psychiatric?" According to Porter's aid, Fauci expressed his puzzlement over M.E. patients' reactions to being told their difficulties were psychiatric, adding that if he told people they had ulcers, they didn't get upset, but ulcers were related to the brain. (Nearly all ulcers in fact are caused by H. pylori, a bacterium, proven scientifically by 1984 but refused as fact by many in medicine until 1994, when NIH issued a statement that the treatment of duodenal and gastric ulcer was detection and eradication of Helicobacter pylori. Its Australian discoverer, Barry Marshall, won a Nobel Prize in 2005.)
The bottom line seems to be that Fauci, who has been in his NIH post since Ronald Regan's first term, will choose to spend money and intellectual capital on M.E. when hell freezes over. In contrast, he has been overseer of the expenditure of hundreds of billions of dollars in AIDS spending during his long tenure. His reportedly vague but ultimately negative response to the venerable Ellen Clayton, chair of the IOM committee, the determined Carol Head and friend Morgan Fairchild is hardly surprising. Although, lacking foreknowledge of Fauci's activities in the M.E. field, it's understandable that the "ask" would be tendered. For many reasons, NIAID has long seemed the appropriate home for M.E. At this late juncture, however, one thinks of the Groucho Marx ad lib that he wouldn't want to be a member of any club that would have him. As long as Fauci remains the director of NIAID, is it in the best interests of ME sufferers to have the disease exclusively under his control at that institute? Of course, the disease appears to have been in the de facto sense under his control at NIH for the last three decades.